Often times, a movie's experience can be greatly diminished by its predictability. However, the new film 'Cobweb' serves as a fantastic reminder that if a movie is able to offer a dreadful atmosphere, have genuine creepiness, a connection with the protagonist, and be technically well-made, that it can still be a successful experience.
'Cobweb' tells the story of 8-year-old Peter, a quiet boy who faces abuse no matter where he goes. From his overly-strict parents at home to the everyday bullies at school, he is only able to find solace with his new substitute teacher Ms. Devine. A week before Halloween, when he is alone at night, he hears scratching come from his bedroom walls. His parents are always woken up to check on him and they assure him that there's nothing there besides possibly some rats. After a short amount of time, a young girl's voice begins to emerge and attempt to communicate with him. While doing a drawing project for school, his teacher sees him drawing a distressing image of himself cowering in bed with "HELP ME" blocked out in large letters. Concerned, she tries to speak with his parents and begins to feel a sense of unease from the mother.
After a series of progressing events, things transpire that force Peter to be removed from school entirely and stay home. Fearful for his safety, Ms. Devine attempts to get in touch with him while Peter's situation with the nightly visitor only gets scarier and more invasive.
This movie is brought to us by relatively new director Samuel Bodin, whose previous credits include the music video for Gojira's 'Vacuity' & Netflix's 'Marianne' series. He is able to craft a level of spookiness that keeps you interested even if the path before you seems rather familiar. It puts on hard display that that's not what the film is about, but rather the journey we continue to take. It has a very autumnal vibe that affects everything from the music, to the color-grading, to the pumpkins growing out in the yard. It has a few scenes of well-crafted scares that blend in nicely to the foreboding atmosphere that you feel with the young boy.
Even though the production studio Lionsgate made the strange decision to release this around the same time as the Barbenheimer weekend, this film has slowly began to find its audience. It's wonderful, gorgeous, and gripping. It's also produced by Seth Rogen & Evan Goldberg (yes, you read that correctly) which makes it even more interesting from a behind-the-scenes perspective.
4/5
"Cobweb" is now available on Bluray/DVD, Vudu, Apple TV, and Amazon Prime.
'Til Next Time,
Mike Cleopatra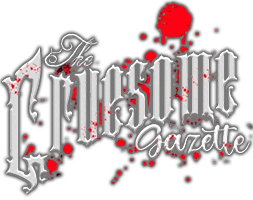 Your source for everything horror