Perfect for the spooky season, Dawn of Ashes premiered their video for their new single called "Her Lethal Injection" ft HER OWN WORLD. They have said this has been different than what they done before, so lets take a look at what they have to offer.
The song is very much as advertised as being different as it is more ambient than their previous material as well as being gothic and atmospheric. The vocal styles of the lead singer Kristof Bathory and the vocalist of HER OWN WORLD blend very well together. The visuals are very dark and spooky as if it is a twisted gothic romance movie. The themes and lyrics speak of a destructive love that swallows you whole and seems almost impossible to escape from. Its like a drug that you know you have to quit yet your addicted to the point you can't find the strength to do so. All you can do is like the chorus says just drown together. I enjoyed this one because yes it is heavy but in a different way and I loved the creativity that went into it.
The single will be available on November 3rd for purchase or download and will also be on their new album Reopening the Scars releasing in the near future via Artoffact Records
You can check out more from Dawn of Ashes via Bandcamp, Spotify, Apple Music, Youtube, and Instagram.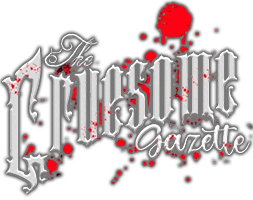 Your source for everything horror