Ever since the album Hammer of the Witches, Cradle of Filth has been knocking it out of the park musical wise, and they continue that trend with their 13th album Existence is Futile. It is a concept album of sorts that deals with the topic of existential dread. The fact they released this as the world is falling apart did not escape my attention.
Within the 14 tracks of musical mayhem, Cradle of Filth prove why they lasted 30 years doing what they do as this latest lineup shows they are a well oiled machine. They have a new female vocalist this time around Anabelle, whose ghostly vocals add to flavor of album. The pummeling track "Existential Terror" opens up the album, followed by the phantasmic "Necromantic Fantasies" and Lovecraftian "Crawling King Chaos". "Dying of the Embers" sounds like a deep cut from Cruelty and the Beast, while "How Many Tears to Nurture A Rose" sounds like it came from the pages of a gothic romance novel.
Frequent collaborator and horror legend Doug Bradley returns again to provide narration on the track "Suffer Our Dominion", and the album ends with Cradle of Filth's bold proclamation of their status "Us, Dark, Invincible". The Deluxe edition of the album features two bonus tracks, "Sisters of the Mist which is the third entry in the trilogy of songs that started with "Her Ghost in the Fog", and it features Doug Bradley going full on Pinhead. The other bonus track is "Unleash the Hellion" and it is typical standard affair.
In all, Cradle of Filth continue to impress, and they show they still have a lot of life left within this album. Dani Filth sounds just as good as he ever was. I wouldn't say this is their best work ever, but it is definitely high on the list. If you are a current fan, you will certainly enjoy the journey, and I highly recommend adding this to your collection.
Till next time, stay scared!
-Tha Thrilla –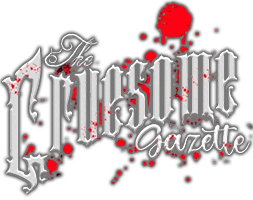 Your source for everything horror