Ice Nine Kills has an attentive love for horror, recreating horror novels and movies through their music. The last horror movie concept album The Silver Scream was a huge hit, so they deciding to release a sequel The Silver Scream 2: Welcome to Horrorwood.
To give us a taste, they released a music video for their song "Hip To Be Scared", which if you can guess is a reference to the movie American Psycho. The video is a loving recreation of the movie, including so many references many will recognize. My favorite part is when they recreate the scene when Christian Bale's character is regaling us about the intricacies of Huey Lewis and the News before sinking an axe into his unfortunate houseguest's head. It was an unique transition and was very amazing how they went about it.
Being a fan of American Psycho, I loved everything about the song and video. Just all the detail and attention they put into this to make sure everything was included about the movie was amazing. You can take a look at the video below, and it is something all horror fans will appreciate:
Silver Scream 2: Welcome to Horrorwood will be available October 15th, and can be pre-ordered here:
http://welcometohorrorwood.net
If this single is any indication, I am very much looking forward to the full album to see what they come up with.
Till next time, stay scared!!
-Tha Thrilla –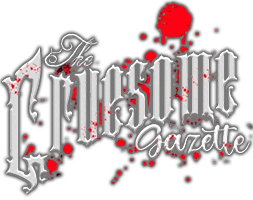 Your source for everything horror